The Sacrifice of Reason
From FreeThoughtPedia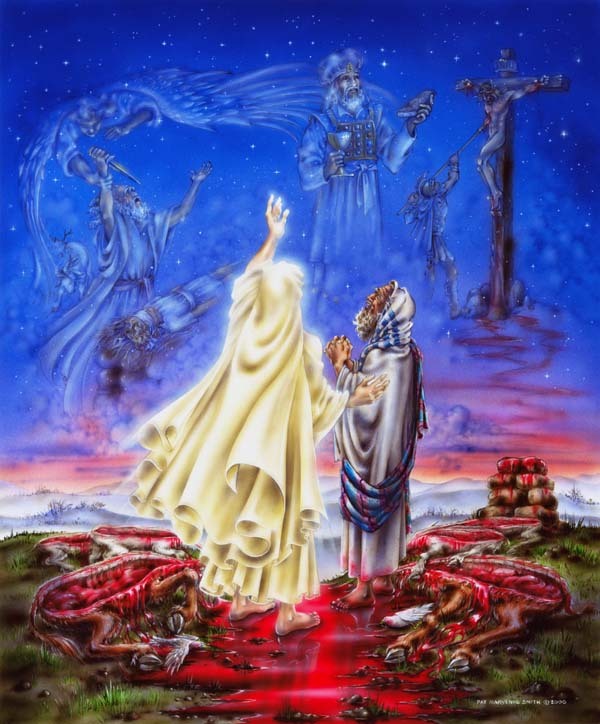 By Sam Harris
Humanity has had a long fascination with blood sacrifice. In fact, it has been by no means uncommon for a child to be born into this world only to be patiently and lovingly reared by religious maniacs who believe that the best way to keep the sun on its course or to ensure a rich harvest is to lead him by tender hand into a field or to a mountaintop and bury, butcher, or burn him alive as offering to an invisible (and almost certainly fictional) God.
In many ancient cultures whenever a nobleman died, other men and women allowed themselves to be buried alive so as to serve as his retainers in the next world. In ancient Rome, children were sometimes slaughtered so that the future could be read in their entrails. The Dyak women of Borneo would not even look at a suitor unless he came bearing a net full of human heads as a love offering. Some Fijian prodigy devised a powerful sacrament called "Vakatoga" which required that a victim's limbs be cut off and eaten while he watched. Among the Iroquois, captives from other tribes were often permitted to live for many years, and even to marry, all the while being doomed to be flayed alive as an oblation to the God of War; whatever children they produced while in captivity were disposed of in the same ritual. African tribes too numerous to name have a long history of murdering people to send as couriers in a one-way dialogue with their ancestors or to convert their body parts into magical charms. Ritual murders of this sort continue in many African societies to this day.
It is essential to realize that such impossibly stupid misuses of human life have always been explicitly religious. They are the product of what certain human beings think they know about invisible gods and goddesses, and of what they manifestly do not know about biology, meteorology, medicine, physics, and a dozen other specific sciences that have more than a little to say about the events in the world that concern them.
And it is astride this contemptible history of religious atrocity and scientific ignorance that Christianity now stands as an absurdly unselfconscious apotheosis. As John the Baptist is rumored to have said upon seeing Jesus for the first time, "Behold the Lamb of God, which taketh away the sin of the world" (John 1:29). For most Christians, this bizarre opinion still stands, and it remains the core of their faith. Christianity amounts to the claim that we must love and be loved by a God who approves of the scapegoating, torture, and murder of one man—his son, incidentally—in compensation for the misbehavior and thought-crimes of all others.
Let the good news go forth: we live in a cosmos, the vastness of which we can scarcely even indicate in our thoughts, on a planet teeming with creatures we have only begun to understand, but the whole project was actually brought to a glorious fulfillment over twenty centuries ago, after one species of primate (our own) climbed down out of the trees, invented agriculture and iron tools, glimpsed (as through a glass, darkly) the possibility of keeping its excrement out of its food, and then singled out one among its number to be viciously flogged and nailed to a cross.
The notion that Jesus Christ died for our sins and that his death constitutes a successful propitiation of a "loving" God is a direct and undisguised inheritance of the scapegoating barbarism that has plagued bewildered people throughout history. Viewed in a modern context, it is an idea at once so depraved and fantastical that it is hard to know where to begin to criticize it. Add to the abject mythology surrounding one man's death by torture—Christ's passion—the symbolic cannibalism of the Eucharist. Did I say "symbolic"? Sorry, according to the Vatican it is most assuredly not symbolic. In fact, the opinion of the Council of Trent still stands:
I likewise profess that in the Mass a true, proper and propitiatory sacrifice is offered to God on behalf of the living and the dead, and that the body and blood together with the soul and divinity of our Lord Jesus Christ is truly, really, and substantially present in the most holy sacrament of the Eucharist, and that there is a change of the whole substance of the bread into the body, and of the whole substance of the wine into blood; and this change the Catholic Church calls transubstantiation. I also profess that the whole and entire Christ and a true sacrament is received under each separate species.
Of course, Catholics have done some very strenuous and unconvincing theology in this area, in an effort to make sense of how they can really eat the body of Jesus, not mere crackers enrobed in metaphor, and really drink his blood without, in fact, being a cult of crazy cannibals. Suffice it to say, however, that a world view in which "propitiatory sacrifices on behalf of the living and the dead" figure prominently is rather difficult to defend in the year 2007. But this has not stopped otherwise intelligent and well-intentioned people from defending it.
And now we learn that even Mother Teresa, the most celebrated exponent of this dogmatism in a century, had her doubts about the whole story—the presence of Christ in the Eucharist, the existence of heaven, and even the existence of God:
Lord, my God, who am I that You should forsake me? The Child of your Love — and now become as the most hated one — the one — You have thrown away as unwanted — unloved. I call, I cling, I want — and there is no One to answer — no One on Whom I can cling — no, No One. — Alone ... Where is my Faith — even deep down right in there is nothing, but emptiness & darkness — My God — how painful is this unknown pain — I have no Faith — I dare not utter the words & thoughts that crowd in my heart — & make me suffer untold agony.
So many unanswered questions live within me afraid to uncover them — because of the blasphemy — If there be God — please forgive me — When I try to raise my thoughts to Heaven — there is such convicting emptiness that those very thoughts return like sharp knives & hurt my very soul. — I am told God loves me — and yet the reality of darkness & coldness & emptiness is so great that nothing touches my soul. Did I make a mistake in surrendering blindly to the Call of the Sacred Heart?
— addressed to Jesus, at the suggestion of a confessor, undated
Teresa's recently published letters reveal a mind riven by doubt (as it should have been). They also reveal a woman who was surely suffering from run-of-the-mill depression, though even secular commentators have begun to politely dress this fact in the colors of the saints and martyrs. Teresa's response to her own bewilderment and hypocrisy (her term) reveals just how like quicksand religious faith can be. Her doubts about God's existence were interpreted by her confessor as a sign that she was sharing Christ's torment upon the cross; this exaltation of her wavering faith allowed Teresa "to love the darkness" she experienced in God's apparent absence. Such is the genius of the unfalsifiable. We can see the same principle at work among her fellow Catholics: Teresa's doubts have only enhanced her stature in the eyes of the Church, having been interpreted as a further evidence of God's grace.
Ask yourself, when even the doubts of experts are thought to confirm a doctrine, what could possibly disconfirm it?
This site costs a lot of money in bandwidth and resources. We are glad to bring it to you free, but would you consider helping support our site by making a donation? Any amount would go a long way towards helping us continue to provide this useful service to the community.

Click on the Paypal button below to donate. Your support is most appreciated!