The God Who Wasn't There
From FreeThoughtPedia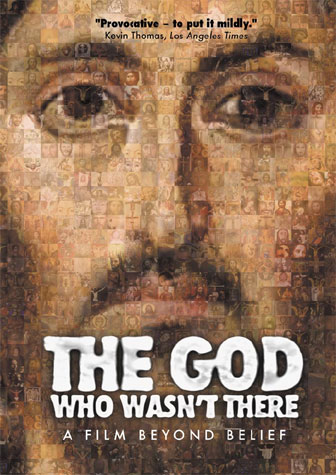 Bowling for Columbine did it to the gun culture.
Super Size Me did it to fast food.
Now The God Who Wasn't There does it to religion.
The movie that has been astounding audiences in theaters around the world is now available on a high-quality, feature-packed DVD. Own the taboo-shattering documentary that Newsweek says "irreverently lays out the case that Jesus Christ never existed."
In this critically acclaimed film, you will discover:
The early founders of Christianity seem wholly unaware of the idea of a human Jesus
The Jesus of the Gospels bears a striking resemblance to other ancient heroes and the figureheads of pagan savior cults
Contemporary Christians are largely ignorant of the origins of their religion
Fundamentalism is as strong today as it ever has been, with an alarming 44% of Americans believing that Jesus will return to earth in their lifetimes
From exposing the hidden history of Christianity to lampooning the bloody excesses of Mel Gibson's The Passion of the Christ (which caused Gibson to attempt legal action against the documentary), The God Who Wasn't There pulls no punches.
Other Resources
This site costs a lot of money in bandwidth and resources. We are glad to bring it to you free, but would you consider helping support our site by making a donation? Any amount would go a long way towards helping us continue to provide this useful service to the community.

Click on the Paypal button below to donate. Your support is most appreciated!