Science
From FreeThoughtPedia

The following article is a Work In Progress. At present nobody is working on this article. If nobody is specifically working on this page, you are invited to help edit it and make it better.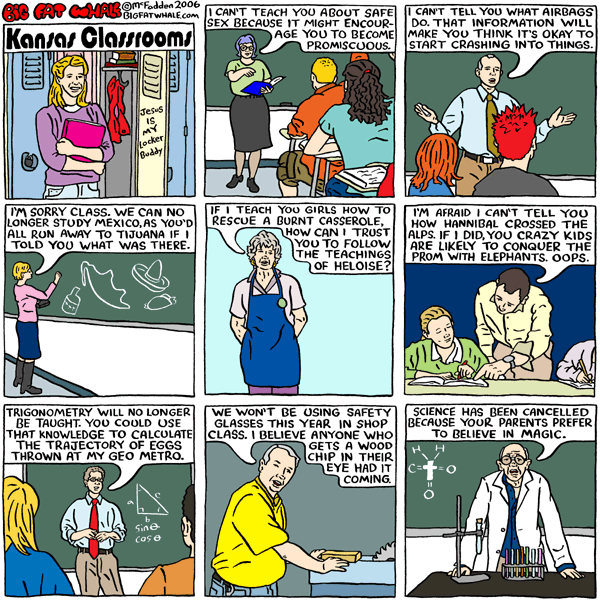 Science is the study of the physical world using the Scientific method. Religious fundamentalists frequently turn against science and scientists when the scientists turn up evidence that goes against their fundamentalist beliefs. The fundamentalists are potentially at a disadvantage as the scientific method is the best method known to find out the truth.
Therefore fundamentalists tend to rely on lies, distortions and emotional arguments.
The claims these evil scientists make go against our most sacred texts that we know must be true.
As a true believer you must not read the works of the evil scientists as this will disturb your faith.
Read only the works of good believers.
The faithful do not know how strong the case of the scientists is and spend time learning alleged sacred texts instead of scientific work. Then it becomes easy to deceive the faithful with distortions and half truths.
As science wants evidence for things, declaring that your god is beyond evidence makes it unscientific. The argument from google maps famously demonstrates this.
Sam Harris talks about the importance of stem cell research and how science is being stifled by religion
Summary of Sam Harris on stem cell research
Stem cell research is one of the most promising lines of research to develop new treatments for diseases. There is the potential for treating, among others, Parkinson's disease, spinal injuries, serious burns. Three day old embryos cannot suffer. A three day old embryo has 150 cells in total. This is far fewer cells than are in the brain of a fly. Arguing that 3 day embryos have souls does not make sense. 3 day old embryos can split and form identical twins; this needs an extra soul. 3 day old embryos can also fuse to form chimeras. Theologians may try and work out where the extra soul went. Meanwhile these theological niceties are preventing funding for research that could potentially help suffering humans that have been born.
This site costs a lot of money in bandwidth and resources. We are glad to bring it to you free, but would you consider helping support our site by making a donation? Any amount would go a long way towards helping us continue to provide this useful service to the community.

Click on the Paypal button below to donate. Your support is most appreciated!