Grace Community Church of Jacksonville
From FreeThoughtPedia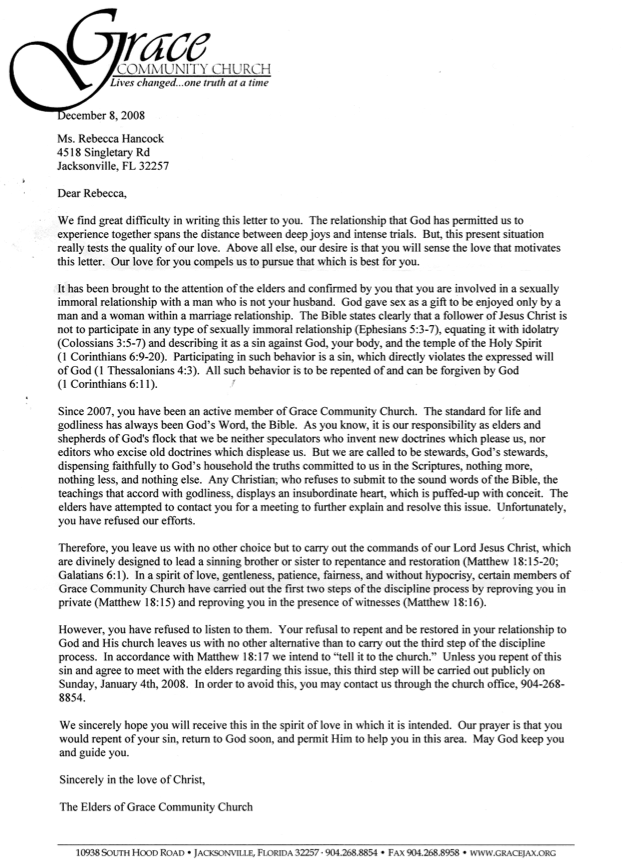 A florida Christian church uses the bible to harass a former member.
The church is threatening to disclose a woman's private sex life to its congregation unless a woman breaks up with her boyfriend and complies with its instruction to no longer fornicate.
When Rebecca Hancock confessed to a church elder privately that she had engaged in a sexual relationship outside of marriage, she never expected the church to begin making demands of her, with threats of public humiliation.
Grace Community Church, a non-denominational church in Jacksonville, Florida responded to the admission by demanding that the woman leave her boyfriend. When she refused to comply with the church's demands and instead ceased to attend the church, things turned ugly.
Although Hancock ended her membership at the church, Grace Community Church elders kicked things up a notch by threatening to dispense her 'sinful' sex life before the church. The same church her two children continue to attend.
In a letter dated December 8, the church officially announced it's intention to broadcast details of Hancock's "immoral" sex life to the church congregation unless she "repent" of her sin and agree to meet with church elders.
The letter then closed by setting a date by which Hancock was ordered to comply. If she didn't repent as ordered, the elders announced that it intended to "Tell it to the church" on January 4.
This site costs a lot of money in bandwidth and resources. We are glad to bring it to you free, but would you consider helping support our site by making a donation? Any amount would go a long way towards helping us continue to provide this useful service to the community.

Click on the Paypal button below to donate. Your support is most appreciated!